The Woom Off Air kids mountain bike is an aggressive and durable 24" mountain bike with a suspension fork, 9 gears, and disc brakes designed for children aged 7 years and over and 4'2" to 4'8". At $999 it is a mid-tier bike with some nice features such as a basic suspension fork.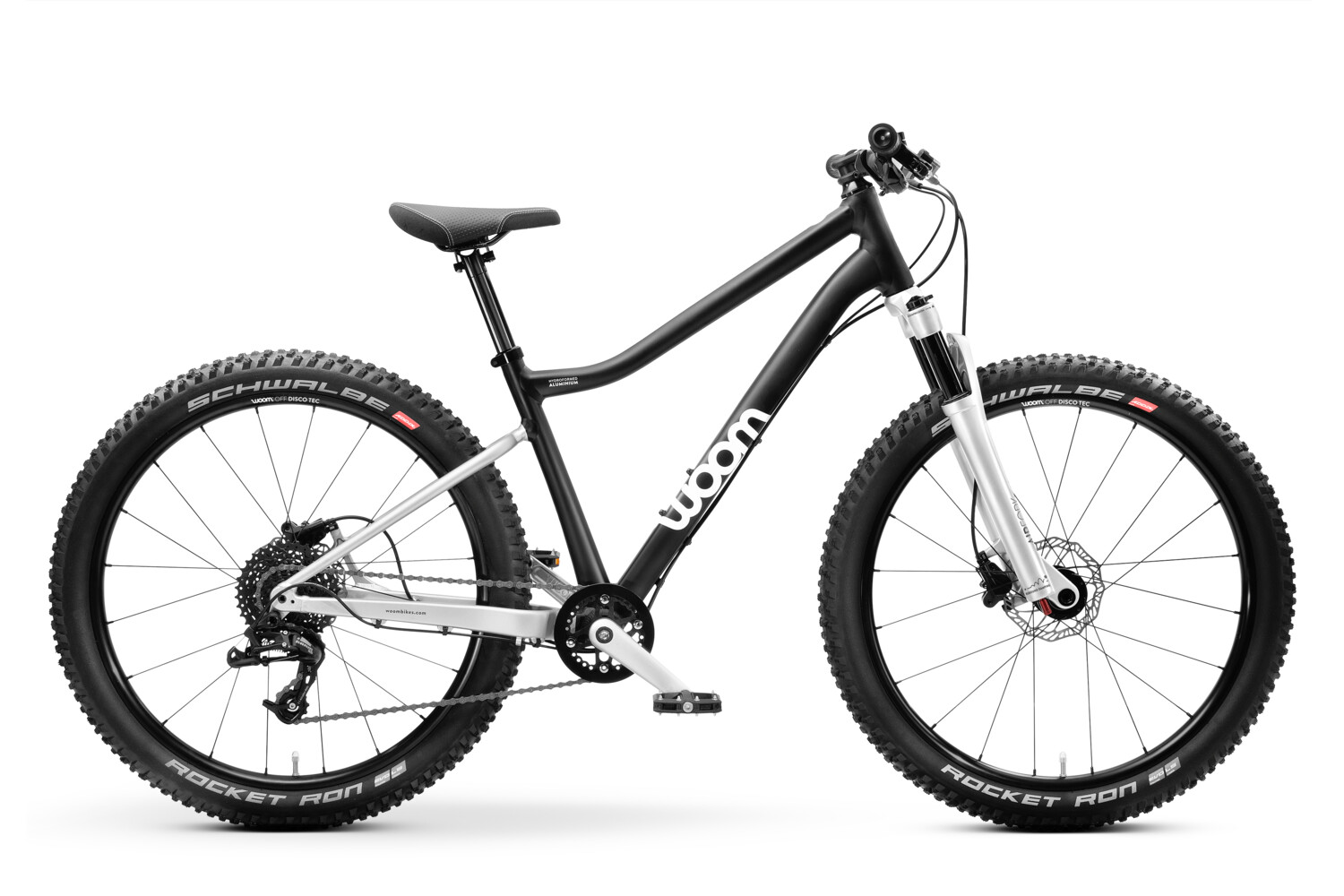 Aggressive Kid 24" Alternatives to Woom Air
If you are considering aggressive kids mountain bikes there are additional alternatives to consider in this price range. The Cleary Scout comes with a name-brand Suntour front suspension fork (unlike the Woom Off Air 24). It has a similar profile and weight specs and is only priced slightly higher at $1180. 
Another 24" mountain bike option to consider is the Frog 62 with a front suspension fork. The Frog 62 weighs slightly more than the Woom Off Air. The Frog branded front fork has more dampening control and a lock-out, which is a very unique feature at this price range. The Frog 62 is priced comparably to the Woom at $999.
Full Suspension 24" Kids Bikes Options
Just because your shopping for 24" kids bikes doesn't mean you can't get a full suspension bike for your littler ripper. If your youth is going on longer rides, the bike park or really enjoys riding rougher terrain a full suspension bike may be the only way to go.  
Commencal Clash Kids 24" are full suspension enduro mountain bikes designed for children and small adults. Each one has all the necessary qualities for long enduro rides, days in bike park or DH races. In terms of components, Commencal chooses the best such as Rock Shox, Shimano and SRAM. The Clash is a top of the line full suspension mountain bike comparable to any adult enduro bike on the market today and retails for $3400.
The final option to consider is the Mondraker Kids Factor 24 bike. Young racers will love the safety and confidence offered by Mondraker's modern geometry design that helps with improved handling, overall control, uphill precision, and stability in tough terrains. Mondraker has mid-tier components suitable for any kid such as X-fusion and SRAM. Our favorite part of the Mondraker 24 is that is can be upgraded to 26" wheels and tires and your young one grow. The Mondraker Kids Factor 24 retails for $2899.