Strider 14x Sport Balance Bike with Pedal Kit
Product Details
Two Bikes in One!  Your child starts on a balance bike, then transitions to a pedal bike!
Fits: Children 3-7 yrs with inseam 16-23" and/or height 37-49"
Availability: In stock in all colors.
The Strider 14x Sport is two bikes in one! After your child has mastered riding the 14x as a balance bike, your little rider is ready to pedal. Quickly attach the Easy Ride Pedal Kit and watch your child seamlessly transition to riding a pedal bike and accomplish this life-changing milestone!  Designed for children 3-7, the Strider 14x Sport creates the foundation for instant success. 
Watch the Strider 14x in Action
The 14x Was Designed for a Proper Fit
Specifically designed for a child's proportions, shorter crank arms make pedaling easier. We also designed the 14x to fit better between the rider's hips. Its narrow design gives your child an easier and more powerful pedal stroke. A comfortable bike promotes instant success.
The low center of gravity gives your child complete control. It's low enough that it teaches children how to stride and pedal effectively, while allowing them to put their feet on the ground whenever he/she wants. The narrow pedals make striding to gain momentum and pedaling with confidence a breeze.
The 14x Grows with Your Child
The 14x is designed to grow with your child, which means it always fits. The 14x comes with a fully adjustable seat and handlebars, and it seamlessly transitions from a balance bike to a pedal bike. This easy transition builds confidence, provides instant success, and means a better value for parents.
Tech Specs
Size: 14" Wheels 
Weight – Bike without Pedal Kit 5.7kg (12.5lbs)
Seat Height: 38-55 cm (15-22 in)  
Maximum Rider Weight: 36kg (80lbs)  
Frame and Fork: Steel  
Head Set: Strider Custom Polymer  
Steering Clamp: Binder Clamp (5mm Wrench Adjustable)  
Seat Clamp: Easy Adjust Lever Clamp (No-Tool Adjustment)  
Tubes: Schrader Valve Air Tube
Tires: 14" x 1.75" All-Purpose Tires 
Wheels: Alloy Rims and Hubs, Chrome Spokes 
Footrest: Included 
Stem: Strider Custom Alloy/Steel,
      25.4mm bar mount 
Handlebar: Strider Custom 22.2mm, 68mm rise,
            25.4mm mount, 4° backsweep/ 4° upsweep
Grips: Strider Custom 22.2mm  
Seat: Strider Custom Performance Saddle  
Seatpost: 22.2mm x 293mm  
          
Tools Include: 5 and 6mm Hex Wrenches  
Assembly: Bike is 85% assembled  
          
CPSC Tested 

EASY RIDER PEDAL KIT:
Weight – Bike with Pedal Kit: 6.9kg (15.5lbs)
Brake: Foot Actuated Rear Coaster Brake
Pedals: Strider "Easy Stride" Narrow Pedals
        9/16" Threads
Crank/Chainring: Steel 76mm / 28 Tooth
Rear Drive Gear: 16 Tooth
Chain: ½ x 1/8 x 62 Links
Chainguard: Included
          
CPSC 1512 Tested with Pedal Kit Installed. 
Customer Reviews
11/10/2020
Nick M.
United States
Best kids bikes out there
We love the Strider bikes! My son started with the 12" bike at 13 months old and will be getting the 14" strider bike with the pedal kit for Christmas this year. He'll be just shy of 2.5 years old at Christmas time. We ride dirt bikes, and our goal is to transition to a PW 50 for his 3rd birthday. After about three months on the 12" Strider, he was picking his feet up and gliding down slight declines balancing perfectly! My nephew has done the same thing and was able to ride a PW 50 without training wheels (idled down, of course) several months before his 3rd birthday. These bikes can be pricey, but I believe they allow a very smooth transition to pedal bikes without the use of training wheels that tend to prolong the balancing process. They're quality built and we'll be able to keep these bikes for our other little ones when they're ready! 10/10 recommend!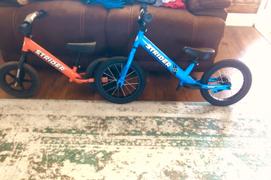 10/19/2020
Zhibo W.
United States
excellent product
Perfect experience, fast shipping and good price for the bike with pedal kit. My daughter loves it. Thanks.
10/07/2020
Anonymous
United States
Great price, fast shipping, fantastic product!
We love Strider bikes and my son was ready for the 14x. We had to wait a few months because they were sold out everywhere in the spring and early summer, but this was the best deal I could find when I checked again a few months later! We are really happy with the bike and it looks like we will be able to add the pedals for my little guy soon.
10/06/2020
Eric O.
United States
Perfect next step
Started our boy on a balance bike not long after he turned two. For his third birthday, we got him this. It has been such s great opportunity for him to make the transition. I highly recommend this bike!!!
PA
09/30/2020
Pedro A.
United States