Cleary Owl 20" Single Speed Bike
Product Details
Get ready for adventure with the lightweight 20" Cleary Owl!
Fits:  6 - 9 yr olds (with an inseam of 20" to 26")
Availability:   Deep Blue, Sorta Pink and Very Orange are available for pre-order to ship on Jan. 8th.  All other colors are temporarily out of stock.
Experience adventures your child will remember forever while cruising around on the 2017 Cleary Owl Bike. This bike will perform on the half-pipe, the trails, off curbs, or on the way to school.  An amazingly lightweight kids bike at just 19 lbs.  Suitable for both girls and boys. The expert bike geometry centers the weight between the rider's hands and seat, which creates a stable, quick-handling bike.

Front and rear hand brakes
Grips, handlebars and brake levers designed for small hands (slightly wider than on the Starfish and Gecko)
Slim, junior race-style vegan leather saddle designed to maximize a rider's range of motion while minimizing chafing and weight
5mm Allen skewer on front wheel
Internal cable routing 
Three-piece crank and square taper bottom bracket
Reinforced steel fork
Single speed drivetrain 
32x20 gear ratio
Have a smaller child or a less aggressive rider?  You may be interested in the Cleary Riser Handlebars, which provide a more upright seated position.
BIKE ASSEMBLY
LIFETIME WARRANTY
The Cleary Bikes Lifetime Warranty stands behind each of our bikes for as long as you ride it. Meaning, the original purchaser has a Lifetime Warranty against any and all manufacturer's defects on the bikes. Go ride hard.
Customer Reviews
06/26/2020
Spencer B.
United States
Quality product, fast shipping
My daughter loves this bike. Best quality bike for kids.
06/17/2020
Carol S.
United States
Great kids bike!
Perfect hybrid for our 9-year-old! It was time to upgrade to a "big kid's bike" and the Cleary Owl has proven to be the best choice. So far, she's taken this single gear for spins on flat pavement and a little bit of off-roading down a dirt hill and it has performed solidly. She complained of some shoulder fatigue on a longer ride, but a little tweaking of the handle bars should help with that. The purchase and shipment from Ready Set Pedal was a breeze and super fast. It was great knowing that we were supporting a small family business!
05/18/2020
Rachel H.
United States
100 out of 5!
Setup was quick and pretty straight forward. It took our daughter about 30 minutes to ride comfortably, coming from a balance bike. We've had the bike for about a month now, and she's progressed very quickly. She rates it 100 stars out of 5! Also, I saw that you can get a free bell with the purchase of a Cleary after checking out, and the folks at Ready, Set, Pedal were super nice, sending us a bell after I asked if we could get one.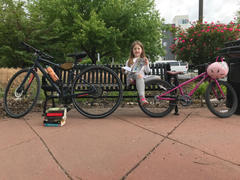 Great bike but some disappointments
Awesome, solid, quality bike, 5 y/o son loves it. Was pretty disappointed however to find a paint chip on the fork and both wheels out of true! Took a while adjusting the rear brake to make it not rub. A brand new bike at this price range should be perfect.