Frog Tadpole 12" Balance Bike
Sold out
Original price
$361.00
-
Original price
$361.00

Get your child rollin' and watch the fun begin!
Fits:  2-3 yrs with minimum inseam of 12" (31 cm).
There's nothing like the feeling of watching your child riding their first bicycle!  The Tadpole is the perfect way to get them started on two wheels.  A lightweight balance bike featuring 12" wheels and a handbrake and steering limiter for safety.  Available in an array of kid-loving colors.  Suitable for riders aged 2-3 years with a minimum inside leg of 12" (31cm).  
Lightweight but sturdy frame
Easy to grip Tektro rear brake with adjustable lever for smaller hands. The brake is mounted above the rear stay to keep it away from the rider's feet.
Soft handlebar grips
12" wheels
Quick release seat-post for easy height adjustment
The locking headset means the handlebars have a steering limiter, which is safer for learners
Reflectors and a bell are included.
Available in red, purple, orange, spotty, pink, team sky and union jack colors.
 Free 5 year warranty available on the frame and fork, 2 years on all other parts. 
| | |
| --- | --- |
| Approx. Age | 2-3 years |
| Colors | FROG: Red, Purple, Pink, Green, Orange & White/Spots, Pink TEAM SKY: White/Blue/Yellow |
| Weight | 4.17 kg or 9.2 lbs |
| Fork | Aluminum Fork |
| Frame | Aluminum 10cm / 4" Tadpole Frame |
| Wheel Size | 12" |
| Head Set | Locking headset, 27mm |
| Bottom Bracket | n/a |
| Crank Set | n/a |
| Chain Ring | n/a |
| Chain Guard | n/a |
| Brakes | (Rear only) Tektro Aluminum J310 Black. Mounted above the stay |
| Brake Levers | (Left only) Tektro Aluminum JL352-RS V Brake Lever Black |
| Length of top tube | 318mm (horizontal distance from seat post to stem: 332mm) |
| Stem | Frog Bikes Aluminum 35mm Stem |
| Handle Bar | Frog Bikes Aluminum Little Handlebars Width 420mm |
| Grip | Frog Bikes Specific Locking Slim Grips |
| Saddle | Frog Bikes Saddle Size:201*136mm, Black, adjustable rails for better fit |
| Seat Post | 200mm long aluminum 27.2 with Quick Release for easy adjustment |
| bell | Bell |
| Rim | Aluminum 12" x 1.5" 16 holes Black (Weight :155g) |
| Hubs | Aluminum 16 holes |
| Tires | Kenda 12.5" x 1.75" hybrid tires |
| Tubes | Kenda 12.5" x 1.75" with Schrader Valves |
| Front Reflector | White |
| Rear Reflector | Red reflector hangs from saddle rails |
Assembly
All Frog Tadpole Balance Bikes bikes arrive 95% assembled. All you need to do is install the seat post, handlebars and front wheel.  
Our professional bike technician looks over every bike before it ships and switches the hand brake to be standard for the US (rear on the right).
Customer Reviews
10/06/2020
Jack A.

United States
Wow!
We are happy to review the Tadpole 12" balance bike! The quality and the workmanship is awesome and the customer service was excellent. Our 3yr old granddaughter LOVES her Frog! I (Papa Jack) made the grievous mistake of buying a cheaper version of a balance bike with foam tires and NO HANDBRAKES. It worked OK for teaching her to balance, but as soon as she learned that, she had no way of stopping except to risk injury by dragging her feet and having them fold up under her on occasion. I was lucky enough to have found the Tadpole on line and available. She picked up the use of the handbrake almost immediately and with just a very few reminders as she rides, she has now learned to use the brake instead of her feet. I am already looking for the Big Girl bike she will need soon, I'm sure. This was such an improvement over the first balance bike that I think that they should be outlawed unless they have handbrakes. Without them they are just too dangerous.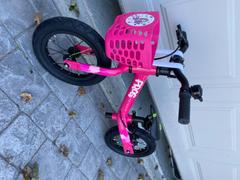 10/01/2020
Element 5.

United States
Great Bike, bigger than expected
This bike is really well built and very solid. Unfortunately it's still too tall for my short 21 month old. She has been riding a tadpole mini with 10" wheels for months and I thought the 12" wheels would be more fun for her on dirt trails, but this was a big size jump. She can fit a Strider fine, but the minimum seat height on the Tadpole is over 12" so she's on tiptoes with it. I'm sure it will be a lot of fun when she's tall enough, but not the right bike for right now.
08/16/2019
Anonymous

United States
Best bike
This bike is perfect for our 2 year old grandson, who is rough and tough on everything. He was able to get on it and balance right away. It is very sturdy and durable. I would highly recommend this bike.