Frog Kickstand
Product Details
Protect your Frog Bike from scratches by using a kickstand.
Frog Bikes' adjustable junior kick-stand, made to fit Frog Bikes.  Easy to install with a 14 mm spanner.  Easy to fold away when not needed.

Size Small works with the Frog 40, 43 and 48.
Size Large works with the Frog 52s, 52, 55, 58, 62, 67, 69, 70 and 73.
Watch a YouTube Video: How to Install the Frog Kickstand.
Customer Reviews
09/22/2020
Anonymous
United States
Frog Kickstand
Experience with Ready Set Pedal was great. The actual kickstand is so-so. It is not easy for my 7 year old son to put up and down. Other designs we have on other bikes work better.
GS
09/22/2020
Gabriel S.
United States
great service
It was great working w/ Ready, Set Pedal!
06/18/2020
Anonymous
United States
Not as pictured - no instructions
Much like the frog bike purchased, there were no instructions. I found a video online but the kickstand provided is different than in the photo. There is no screw to adjust the height. It requires a very small allen wrench, which I didn't have. All in all, it took an extra 20 min to jimmy rig, better than not having a kickstand.
06/09/2020
Robert D.
United States
Great Kickstand but....
Ready Set Pedal was great no issue with the buying experience. Frog makes great products no doubt but I just wish they'd come with some kind of instruction set. This kickstand was bought for a Frog 62 and it called for the large but the screw that attaches to the frame is too big for the kickstand hole. It still attaches but not where you'd assume. Also when attaching you have to avoid the derailleur cable otherwise you won't be able to shift gears. Again instructions with some warnings would've been nice.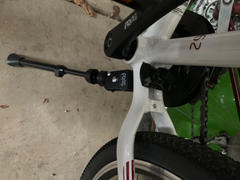 06/08/2020
Bill L.
United States
Solid and easy to install, but hard to use
I purchase the Frog Kickstand for the Frog 55. It is OK. A bit large and clunky compared to the simple steel arm ones I usually get for my kids bikes. It is solid, but a bit on the heavy side. The biggest complaint is that when it is retracted, it stows up too close to the rear frame stays, and my kids can't get their foot in to kick it down. So they have to use their hands. There is like an inch of clearance between the two, not enough for a foot to fit in. If you pivot it outboard a bit, it hits the pedal.